Base One Max Product Manual
Base One Max Product Manual
Updated by Madeline Myers
Base One Max
UPC: 856500011516, 856500011745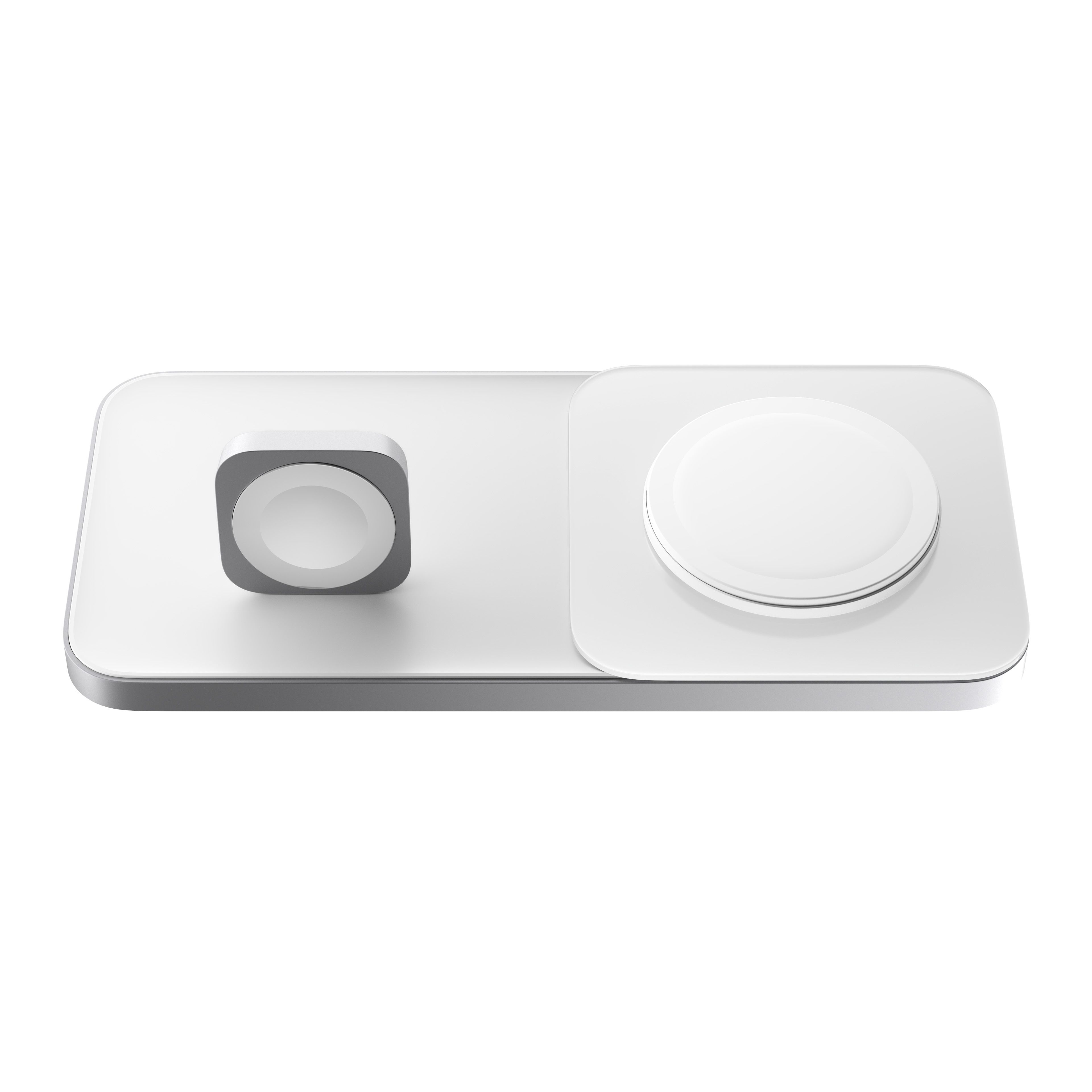 April 2022
Version 1.0
Package Contents
Base One Max
2 meter USB-C to USB-C cable
Requires ≥ 30W USB-C Power Adapter (not included)
Specifications
Weight

900g (2 lbs)

Size

189 mm X 90 mm X 18.3 mm (just the base)
189 mm X 90 mm X 47 mm (with Apple Watch charger)

Input

≥ 30W

Output

15W charging speed for iPhone
7.5W charging speed for Qi wireless charging devices

Devices

Charges iPhone 8 and later
MagSafe's magnetic alignment feature only works with iPhone 12 and later
Raised MagSafe Charger ensures compatibility with any phone camera thickness
AirPods with Wireless Charging Case
AirPods Pro
Any Qi wireless charging device
Apple Watch Series 4, 5, 6 and 7
Product Overview
Premium glass panel and metal chassis

Apple MagSafe Charger

Charging cable port (requires 2 meter USB-C to USB-C cable)

Integrated Apple Watch charging puck

Anti-slip rubber base
Charging Tips
Base One Max features an official MFi MagSafe Charger. To begin charging, simply center your device on the puck and allow it to snap into optimal charging position. Base One Max works with iPhone 8 and later as well any Qi enabled wireless charging device, but MagSafe magnetic alignment is an added benefit for iPhone 12 and later.
When placing your Apple Watch on your Base One Max, push the bottom of the watch in so that the watch is parallel with the puck rather than at an angle and slightly separated from the charger. When positioned correctly, you won't be able to see a gap between your Apple Watch and the charging puck. Additionally, a little lateral wiggle will help you locate the watch in the X plane. You'll feel a subtle snap when the watch is nestled into correct charging position.
Base One Max does not include a 30W USB-C Adapter. Available for purchase separately 
here
.
We decided not to include a 30W USB-C Power Adapter with Base One Max. Producing fewer chargers means less of an environmental impact. This wasn't an easy decision, but we think it was the right one.
Learn more
.
Disposal of Product and Packaging
Packaging: The inner black cardboard tray is recyclable and can be placed in your recycling bin. The outer box and attached foam inserts are not recyclable. These components are disposable in your landfill waste.
Product: Should your product become damaged or defective, and is no longer covered under warranty, please responsibly dispose of the product and its AC power adapter at your local e-waste collection center. If an e-waste collection center is unavailable to you please contact us at support@nomadgoods.com and we will accept your used device back for responsible disposal.
Warranty
Nomad offers a 2-year limited warranty for all Nomad products with the exception of our cables, for which we offer a 5-year limited warranty. Both warranties cover any manufacturing or workmanship defects but do not cover damages that may have resulted from normal wear and tear, misuse/abuse, or modification of the product. If your Nomad product is defective, we will help you to exchange it for a brand new replacement. We cannot guarantee that the exact style or product for a claim will be in stock at the time that your warranty claim is processed, but we wouldn't want you to be left empty-handed! In this case, we will offer store credit rather than a replacement. The store credit never expires and will be valid for any product found at www.nomadgoods.com. For more information on our warranty policy, please visit our Warranty page.
Nomad will not be liable for any damages that may result from the use of any Nomad product. Our warranty does not cover the repair or replacement of property such as electronic devices and/or other personal property.
Contact 
support@nomadgoods.com